Vegetable Topsoil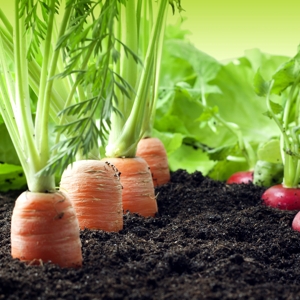 Vegetable Topsoil is a rich blend of organic compost and dark, rich topsoil specifically designed to grow vegetables. Our soil is made up of fertile organic matter and shows consistent results by providing the natural goodness needed to produce vegetables, herbs and fruit.
It is important to understand that vegetable crops absorb a large amount of nutrients and water from the soil and so using a specific vegetable blend soil is highly recommended. As our vegetable soil has a large percentage of organic matter this also helps moisture retention which is extremely beneficially for growing vegetables.
Our Vegetable Topsoil blend is designed for the budding vegetable growers, it is peat free making it a winner for raised beds, allotments and fruit growing.
All our soil is screened so has a minimal stone content and is easy to work and barrow.
Available in 1 tonne bulk bags and 25kg bags delivered nationwide
Fruit & Vegetable Topsoil
Choosing a high quality fruit & vegetable topsoil is important to making vegetable patch thrive.
Only a good quality topsoil will contain the organic matter and nutrients that are required for a fruit and vegetable garden. Purchasing your topsoil from an expert supplier like the topsoil shop will ensure the correct mix is supplied.
A good quality vegetable topsoil will be crammed with organic matter including living organisms ranging from insects and spiders to protozoa, fungi and bacteria. These are all essential items that go to making a first class soil.
Further organic matter such as mushroom compost can be incorporated into the soil if required. Remember, you are going to be eating the vegetables and what you put in in effort is what you get out in flavour.