Vegetable Topsoil
NW-Topsoil-Veg-BB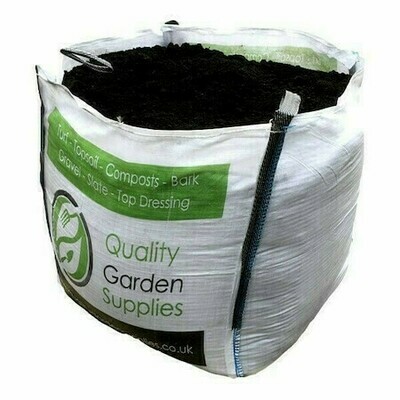 Topsoil
Price :
86.81
GBP
In stock
[tab name="Key Points"]
Available Online in Bulk Bags and 35 Litre Bags!

Standard Bulk Bag - 750 Litres (standard topsoil bulk bag size)
Extra Value Jumbo Bag - 1200 Litres (60% more volume than a standard bulk bag!)
Pallet of 25 x 35 Litre Bags - Approximately 875 Litres on a pallet
Pallet of 50 x 35 Litre Bags - Approximately 1750 Litres on a pallet
Vegetable Topsoil Key Points:
100% Peat Free Vegetable Growing Soil
Full of Essential Nutrients and Organic Composts
High Organic Matter Content
Locks in Nutrients & Moisture around Plant Roots
Enhanced Growth & Yields
Screened to remove larger stones and lumps.
Next Day Delivery Available Nationwide! (order before 12.30 mon - friday)
[endtab]
[tab name="More Details"]
Introducing our Premium Quality Topsoil for Growing Vegetables – the ultimate solution for all your gardening needs! Specially crafted to nurture your plants and maximize their growth, this topsoil is a must-have for every gardening enthusiast and professional alike.
Our topsoil is meticulously sourced and blended to provide the ideal environment for vegetable cultivation. Enriched with organic matter, essential nutrients, and minerals, it promotes healthy root development, vibrant foliage, and bountiful harvests. Whether you're a novice gardener or a seasoned expert, our topsoil ensures that your vegetables thrive and flourish, producing robust, flavorful, and nutrient-packed yields.
What sets our Premium Quality Topsoil Apart?
1. Rich Nutrient Profile: Our topsoil is carefully curated to contain a balanced mix of nutrients, including nitrogen, phosphorus, and potassium, essential for the optimal growth of vegetables. This nutrient-rich composition fosters strong plant immunity, ensuring your vegetables can resist diseases and pests effectively.
2. Enhanced Drainage: Proper drainage is vital for healthy plant growth. Our topsoil is engineered to strike the perfect balance between water retention and drainage, preventing waterlogged roots and enabling your vegetables to access moisture and nutrients precisely when they need them.
3. pH Balanced: Maintaining the right pH level in the soil is crucial for nutrient uptake by plants. Our topsoil is pH balanced, ensuring that your vegetables can absorb nutrients efficiently, leading to healthier plants and higher yields.
4. Easy to Work With: Our Premium Quality Topsoil has a light, fluffy texture, making it easy to work with and ideal for various gardening applications, including raised beds, containers, and traditional garden plots. Its fine consistency allows for proper aeration, root penetration, and overall plant growth.
5. Environmentally Friendly: We are committed to sustainable practices. Our topsoil is sourced responsibly, ensuring minimal environmental impact. By choosing our product, you're not only investing in your garden but also contributing to a greener, healthier planet.
Whether you're growing luscious tomatoes, crisp lettuce, or vibrant peppers, our Premium Quality Topsoil for Growing Vegetables provides the foundation your plants need to flourish. Elevate your gardening experience and watch your vegetables thrive like never before. Transform your garden into a haven of abundance with our top-quality topsoil – the secret ingredient for a successful vegetable harvest!
[endtab]
[tab name="Delivery"]
**PLEASE NOTE** WE DO NOT DELIVER ON TO GRAVEL!
Order Before 12.30 for Same Day Dispatch!
Topsoil orders can be delivered next working day if placed before 12:30 pm Monday to Friday on our Express Delivery Service.
Choose Your Delivery Date

You will be able to choose a delivery date that suits you in the checkout.
How We Deliver
Topsoil deliveries are made on 18 tonne curtain sided lorries and off loaded via a tail lift and pallet trolly to the kerbside.

A smooth level surface such as tarmac or paving is required to offload onto, we can not deliver onto gravel or up a slope.
For more information please see our delivery details.
Please note items may be delivered in multiple deliveries.
Returns
Please read our delivery information carefully. Delivery failure, will result in either a re-delivery or a return / cancellation charge. Both of these are expenses that are covered by the customer, and vary depending on postcode. If you have any concerns over delivery, please ring us on: 01785 850 653
[endtab]
[tab name="Topsoil Calculator"]
Topsoil Calculator
The calculator is based on 750L Standard bags
Please note this calculator is for guidance only and will round up to the nearest bulk bag.
[endtab]
Uses:Vegetable Growing, Raised Beds
Can be used for:All Garden Uses
Pack Size:Standard, Jumbo Bulk Bags & Pallets of 35 Litre Bags
Available Next Day:Yes (if ordered before 12.30)
Standard Bulk Bag - 750 Litres (0)
Jumbo Bag- 1200 Litres (0)
25 X 35 Ltr Bags - 875 Litres (0)
50 x 35 Ltr Bags - 1750 Litres (0)