Compost Enriched Topsoil
NW-Topsoil-BB-1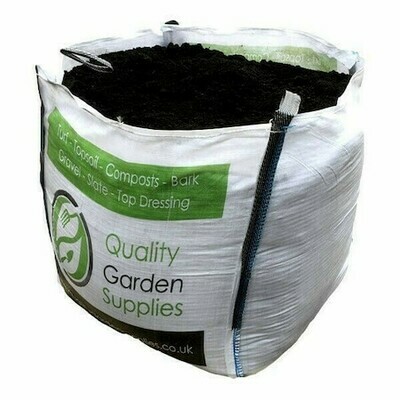 Topsoil
Price :
86.81
GBP
In stock
Description
Enriched Garden Topsoil
Available Online in Bulk Bags & 35 Litre Bags!
Standard Bulk Bag - 750 Litres (standard topsoil bulk bag size)
Extra Value Jumbo Bag - 1200 Litres (60% more volume than a standard bulk bag!)
Pallet of 25 x 35 Litre Bags - Approximately 875 Litres on a pallet
Pallet of 50 x 35 Litre Bags - Approximately 1750 Litres on a pallet
---
Barn Stored & Enriched Topsoil
A premium quality multi-purpose enriched topsoil, screened and blended, this topsoil is fine and friable and suitable for all uses in the garden.
Our enriched topsoil is based on a sandy loam soil which has been blended with a quality PAS100 Certified Organic Soil Improver to produce a dark rich topsoil, suitable for a range of applications throughout the garden. it's certified to BS3882 standard and screened to 10mm
Details
Enriched with quality organic composts to give your plants a boost.
Fine and Friable making it easy to use and level.
Screened to remove larger stones and lumps.
Barn Stored, dry and easy to handle
100% Peat Free
If you are looking for a product for grass seeding then we would recommend our 50:50 lawn soil as it is finer screened and will contain less stones etc.
For topdressing applications we recommend our lawn top dressing.
Delivery
Delivery Information
**PLEASE NOTE** WE DO NOT DELIVER ON TO GRAVEL!
Topsoil is delivered on pallets, on curtain sided 18 ton lorries with a tail lift and pallet trolley and are only guaranteed to the kerbside. Please note items may be delivered in multiple deliveries.
See our delivery details page for more information on our delivery service and Terms and Conditions.

Orders can be delivered next day if placed before 12:30 pm Monday to Friday & Express delivery is selected, we can also deliver on Saturday mornings in most areas, please call us to place an order and arrange a Saturday delivery. Saturday delivery surcharges apply at the current rate P.O.A.
HOW DO YOU DELIVER?
Our deliveries are made on 18 tonne curtain sided lorries and off loaded via a tail lift and pallet trolly to the kerbside. A smooth level surface such as tarmac or paving is required to offload onto, we can not deliver onto gravel or up a slope.
DO YOUR PRICES INCLUDE DELIVERY?
Standard delivery to most postcodes is included in the price, however we do charge a small delivery surcharge to some postcodes. This is shown in the checkout when you have entered your delivery postcode, along with any other delivery options (such as Express Delivery etc).
WHAT DAYS DO YOU DELIVER ON?
Our standard working day deliveries are made Monday to Friday only, with the exception of turf which can not be delivered on a Monday. We can deliver on a Saturday when orders are placed over the phone with ourselves no later than 12:30 Friday afternoon.
DO YOU HAVE AN ORDER CUT OFF TIME?
Yes - our order cut off is 12:30 pm Monday to Friday for same day despatch.
HOW DO YOU DELIVER?
We deliver our products via a pallet delivery network (either TPN or Palletways).
Deliveries are made on large 18 ton curtain sided vehicles and goods are delivered on a pallet. We require a smooth level surface to deliver on to such as tarmac, block paving or concrete and we can not deliver on to gravel or grass.
Our delivery service is kerbside delivery only.
CAN I BOOK A TIME SLOT?
AM or PM slots can be booked, for a fee of £20.
AM Deliveries, are between 08:30am - 1pm
PM Deliveries are between 12pm - 6:00pm
If you would like to book a Time Slot, please call our Customer Service team on 01785850653
Our delivery service is kerbside delivery only.
IS THERE A CHARGE FOR RE-DELIVERY?
If there was an issue with access and we weren't notified of the (potential) issue before delivery, there will be a re-delivery charge, that will have to be paid before the goods are re-dispatched from the delivering depot. The re-delivery can vary depending on the product and postcode. If you have experienced an issue or, you're concerned about any access issues, please contact us on 01785 850 653 to discuss further.
IS THERE A CANCELLATION / RETURN CHARGE
In short, yes. The longer answer is, the cost for cancelling the order / returning the order can vary, depending on the amount of pallets being sent, the weight of the goods and the postcode. However, if the goods haven't left the collection depot, there will not be a return / cancellation charge deducted from your refund, as we're not charged by the network at this point. If you have any concerns and or questions, please contact us on 01785 850 653
DO YOU PROVIDE A TRACKING NUMBER?
As our goods are sent through a palletised delivery network, the tracking information we have is limited. Therefore if you would like an estimated time of delivery, we can chase this for you, on the day of delivery. Simply ring us on 01785 850 653, or e-mail us and we can chase this for you.
Topsoil Calculator
Topsoil Calculator
The calculator is based on 750L bags
Please note this calculator is for guidance only and will round up to the nearest bulk bag.
Uses:All Uses in The Garden
Pack Size:Standard Bulk Bags, Jumbo Bags & Packs of 35 Litre Bags
Available Next Day:Yes .. if ordered before 12.30
Standard - 750 Litres (0)
Jumbo 1200 Litres (60% more!) (0)
25 x 35 Litre Bags (0)
50 x 35 Litre Bags (0)