Beds & Borders Topsoil
NW-Topsoil-2-BB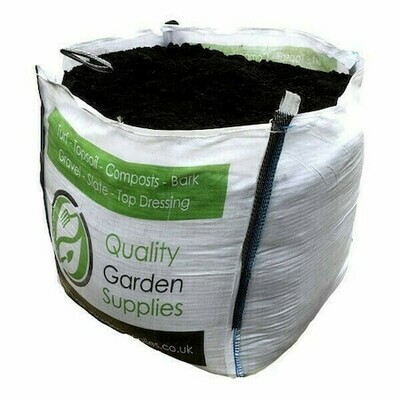 Topsoil
Price :
86.81
GBP
In stock
Description
Available Online in 2 Bags Sizes!
Standard Bulk Bag - 750 Litres (standard topsoil bulk bag size)
Extra Value Jumbo Bag - 1200 Litres (60% more volume than a standard bag!)
---
Beds & Borders Topsoil
A beautiful blended topsoil perfect for creating and topping up flower beds and borders. This topsoil is a dark, fine and friable organic rich loam, full of essential plant nutrients. This soil has been screened to 10mm to remove any lumps and stone.
Details:
Dark Rich Blended Topsoil
Perfect for Flowerbeds and Borders
Screened to remove larger stones and lumps.
Full of Essential Plant Nutrients
Delivered in a Bulk Bag on a Pallet
100% Peat Free
Checkout our reviews and see what our customers say!
---
Topsoil Calculator
---
Choose your Delivery Date
You will be able to choose a delivery date and service that suits you in the checkout, topsoil can be delivered next day if you order before 1pm.
How we Deliver Topsoil
**PLEASE NOTE** WE DO NOT DELIVER ON TO GRAVEL!
Topsoil is delivered on pallets, on curtain sided 18 ton lorries with a tail lift and pallet trolley. See our delivery details page for more information on our delivery service.
Please note items may be delivered in multiple deliveries.

Returns
Please read our delivery information carefully. Delivery failure, will result in either a re-delivery or a return / cancellation charge. Both of these are expenses that are covered by the customer, and vary depending on postcode. If you have any concerns over delivery, please ring us on: 01785 850 653
---
Uses:Beds and Borders & Planting
Can be used for:Turfing, Potting or any other topsoil use.
Pack Size:Standard & Jumbo Bags
Available Next Day:Yes .. if ordered before 12.30
Standard Bulk Bag - 750 Litres (0)
Jumbo Bulk Bag - 1200 Litres (0)
25 x 35 Litre Bags - 875 litres (0)
50 x 35 Litre Bags -1750 Litres (0)