Organic Garden Compost
NW-SoilImp-BB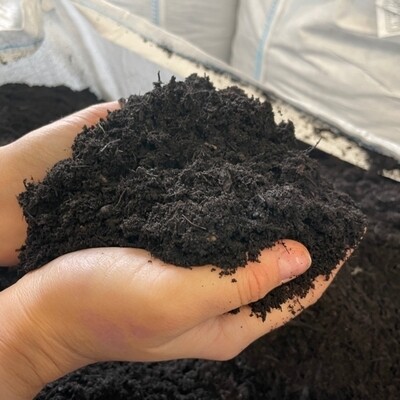 Compost & Manures
[tab name="Description"]

Garden Compost in Bulk Bags & 40 Litre Bags
Give your garden a boost with our finest black organic peat free soil improver delivered in Bulk bags, huge 1200 litre Jumbo Bags and 40 litre bags.
Simply dig this 100% peat free compost into your soil to increase fertility and improve soil structure, ensuring your plants stay healthy all year round.
Details:
Improves soil fertility
Increases organic matter
Breaks up heavy soils and improves light soils
Helps lock in moisture and nutrients around roots
Promotes healthy plant growth and germination
Speeds up root establishment in turf
Quality Compost Protocol and PAS100 Certified Compost
This soil improver will also speed up turf establishment when raked into the soil before turf laying and make an excellent general purpose peat free tree and shrub planting compost.
Made from 100% peat free organic material, composted and screened to produce a quality dark and rich organic garden soil improver.
[endtab]
[tab name="Delivery "]
Delivery Info
**PLEASE NOTE** WE DO NOT DELIVER ON TO GRAVEL!

This bulk bag of compost is delivered on a pallet, on curtain sided lorries with a tail lift and pallet trolley and are only guaranteed to the kerbside. Please note items may be delivered in multiple deliveries.
We can not deliver onto Gravel or uneven surfaces
See our delivery details page for more information on our delivery service and Terms and Conditions.

Orders can be delivered next day if placed before 1pm Monday to Friday & next day delivery is selected, we can also deliver on Saturday mornings, Sat Am option must be selected in the checkout.
The order cut off point is 1pm each day Monday to Friday.
[endtab]
Uses:Soil Improving
Can be used for:Mulching
Pack Sizes:40 Litre Bags, Bulk Bags & Jumbo Bags
Available Next Day:Yes (if ordered before 12.00
Available Loose:Yes - in loads over 20m³ - call 01785 850 653 for prices.
Bulk Bag (approx 1000 Ltrs) (0)
Jumbo Bag (approx 1200 Ltrs) (0)
10 x 40 Litre Bags (400 Ltrs) (0)
25 x 40 Litre Bags (1000 Ltrs) (0)
50 x 40 Litre Bags (2000 Ltrs) (0)