Farm Yard Manure Blend Bulk Bag
CP-ARM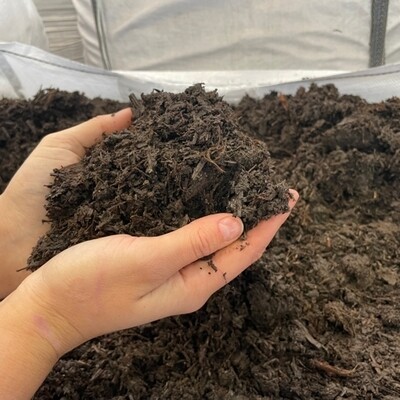 Soil Improvers & Manures
Price :
94.65
GBP
In stock
[tab name="Description"]

Manure & Mushroom Compost Blend
A fantastic blend of well rotted farm yard and horse manure mixed with spent mushroom compost (70% Manure 30% Mushroom Compost). This product has been well rotted and bagged to produce a high quality easy to use soil conditioner.
Either dig into existing soils or used as an enriching mulch on flowerbeds, vegetable beds and borders. Boost your soil fertility and improve soil structure and reap the rewards!
Suitable for:
Mulching (nutrient rich mulch)
Soil Conditioning
Vegetable Growing
Rose Beds
Tree and Shrub Planting
Benefits:
Increases soil nutrition
Promotes strong root development
Improves soil structure
Breaks up heavy soils
Improves moisture retention around root systems
[endtab]
[tab name="Delivery"]

Mushroom Compost & Manure Blend is delivered on pallets, on curtain sided lorries with a tail lift and pallet trolley. See our delivery details page for more information on our delivery service.
Please note items may be delivered in multiple deliveries.
[endtab]
Uses:Soil Improving, Rose Beds, Vegetables, Planting
Can be used for:All Non Ericaceous Uses
Pack Sizes:Bulk Bags and Jumbo Bags
Peat?:Peat Free
Available Next Day:yes if ordered before 12.30
Bulk Bag (approx 1000 Litres) (0)
Jumbo Bag (approx 1200 Litres) (0)