Soil Improver 50 Litre Bags
GG-soil-Imp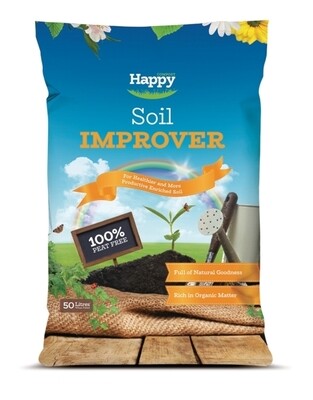 Compost & Manures
Compost Soil Improver 50 litre Bags
Peat Free Soil Improver
This quality Peat Free Soil Improver is made from a blend of rich organic green compost, composted bark fines and wood fibre.
We supply this quality soil improver in pack of 50 litre bags, from 1 bag to a full pallet of 50 bags.
This compost is ideal for adding humus (organic matter) and slow releasing essential plant nutrients into topsoil for general soil improving and perfect for use as a peat free tree and shrub planting compost. It is also a great ingredient for using when producing / blending your own potting and growing composts.
Soil Improver Benefits:
Adds organic matter
Adds natural slow releasing essential plant nutrients
100% Peat Free
Breaks up heavy soils (clay)
Improves fertility and structure of sandy soils
Delivery is made via a curtain sided vehicle with a tail lift offload. Guaranteed to kerbside only. For more information please see our delivery details.
Uses:Soil Improving, Tree & Shrub Planting
Can be used for:Mulching
Pack Sizes:50 Litre Bags
Peat?:100% Peat Free
Available Next Day:Yes (if ordered before 12.30)
1 x 50 Litre Bag (0)
5 x 50 Litre Bags (0)
10 x 50 Litre Bags (0)
15 x 50 Litre Bags (0)
20 x 50 Litre Bags (0)
30 x 50 Litre Bags (0)
40 x 50 Litre Bags - £4.05 / bag (0)
50 x 50 Litre Bags - £3.50 / bag (0)